Intensive Spanish courses
since 1964
Intensive Spanish courses in Gran Canaria
The Gran Canaria School of Languages offers intensive Spanish courses with accommodation to foreign students since 1964.
Our Spanish courses are offered all year round in six levels, in groups and in private or semiprivate lessons and are aimed to adults who are either having their first contact with the Spanish language or to those who wish to improve their knowledge.
Our courses are recognized for Bildungsurlaub.
The school is open all year round and only closes on public holidays. The hours of those days are made up during the other workdays of the week.
The school offers general Spanish courses in groups and private classes, and Spanish for specific purposes or preparation for official examinations only in private classes.
General Spanish courses
Online course
Spanish courses for specific purposes
Business Spanish
Spanish for tourism
Spanish for health services
Spanish for cabin crew
Preparation for official examinations
Spanish + sports
Accommodation
With breakfast. Optional half-board
Private bathroom
Free Wifi, TV and safe box
Free grammar book
50% discount on the weekly excursion price
and other advantages
After more than 50 years of experience in teaching Spanish to foreigners, Gran Canaria School of Languages has adopted its own methodology in which aspects of the main language learning methods converge.
The ultimate goal of our intensive Spanish courses is for our students to communicate fluently and accurately in Spanish. To this end, a context of linguistic immersion is provided in which the student is encouraged to use the target language from day one.
The grammatical reinforcement of the traditional method is not absent in the courses and provides the students with mechanisms to complete their Spanish acquisition process.
In order to enrich the learning experience, our classes are complemented with cultural contents that make known relevant aspects of Spanish society in general, and the Canary Islands in particular.
Our students learn Spanish to communicate, which is why at Gran Canaria School of Languages we focus our efforts on building a direct bridge between the classroom and the reality with which the student will come into contact during their stay on the island.
Classes are given in Spanish.
Are you a beginner?
All classes are taught in Spanish, including level A1. But don't worry: our teachers are experienced and will help you at all times. You just need to have a little patience and a lot of will to learn.
At Gran Canaria School of Languages we have developped our own method Aprendo español according to the levels of the Common European Framework for Languages and the curriculum of the Instituto Cervantes.
For each level we use a student book and an exerciese book.
There is also a grammar book.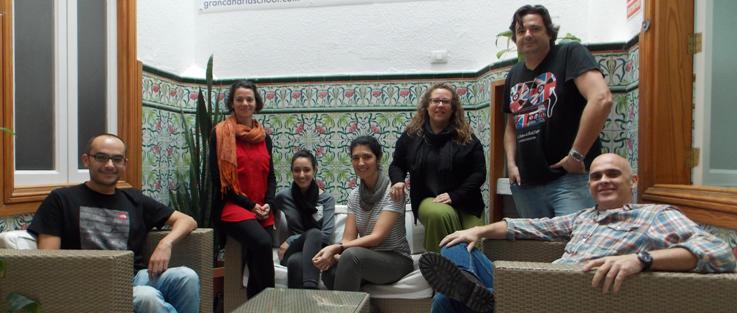 No registration fees
The school does not charge any registration or booking fees for courses or accommodation.




All Spanish levels throughout the year.
We do not close for holidays. The school stays open all 12 months of the year.




Four levels run throughout the year
We run our groups in the levels A1, A2, B1 and B2 throughout the year, and level C1 from October to March.




20 hours/week
All groups will have 20 hours of tuition per week regardless of the number of participants




All classes are made up
The school only closes on bank holidays. All classes pertaining to those days are made up during the same week.




Any course as of 1 week
Any course may be booked as of one week and for as many weeks as desired.




Qualified and experienced teachers
All our teachers are native speakers. They hold a university degree in Spanish philology or linguistics and have long experience in teaching Spanish as a foreign language.




Accommodation near school
Stay at our residence halls and reach the school in 15 minutes or less by foot along the beach promenade. No public transport needed.




Food preferences are respected
When booking our half board, your meal preferences will be respected: vegetarian, celiac, allergic to lactose, etc.




Online learning
Try our online course of levels A1 and A2 before you arrive and after you leave. This will help you maintain and enhance your Spanish level after you return home.
Access to our online course is free for all students staying at our residence halls.
GRAN CANARIA SCHOOL OF LANGUAGES has specialized in teaching of Spanish as a foreign language to foreigners since 1964. During these years many students have expanded the reputation of the school worldwide. The teachers are highly qualified and have a long experience in the field of teaching Spanish as a foreign language.
In 1994 the school was officially congratulated for its 30th anniversary by the Canary Islands Government through the Tourist Board of Las Palmas de Gran Canaria as well as by the City Council through its Tourism Department for its many years of fruitful activity.
In 2014 the congratulations to Gran Canaria School for its 50th anniversary were renewed.
---
Gran Canaria School of Languages is a member of FECEI, the Spanish Federation of Language Teaching Centres.
---
Gran Canaria School of Languages has been recognized since 1986 by the governments of Hamburg and Hessen (Germany), as well as more recently by many others, as a partner for the teaching of Spanish as a foreign language in professional training (Bildungsurlaub).
---
Gran Canaria School of Languages is the only authorized centre for DIE exams in Las Palmas. The DIE has the academic recognition of the Spanish Language and Culture Courses at the Pontifical University of Salamanca.
---
Gran Canaria School of Languages has won the iStudy 2016/17 award for excellence in teaching in the Canary Islands.
The awards program selects winners based on their achievements and strengths in the education industry. Award winners have demonstrated success and innovation.
The award's judges have received an overwhelming number of nominations this year and the jury had the difficult task of selecting those schools, universities, teams and individuals within each category who are worthy of a prize.
All winners of the iStudy 2016/2017 Awards are subject to the same rigorous studies and evaluation criteria, carried out because of their experience in their professional field. This ensures that only the most deserving are awarded one of these prestigious prizes.
The iStudy Awards represent the pinnacle of achievement, the defense of the best in their respective fields. Therefore, winning is an achievement of which Gran Canaria School is proud.

---
Location
Location of school and residences:
Me gustaría muchísimo volver a la escuela el próximo año para mejorar mi español y también porque he encontrado personas muy amables y divertidas. ¡Muchísimas gracias!
Ilaria farioli, 26, Italia.