Intensive Spanish courses
since 1964
Intensive Spanish courses in Gran Canaria
There are more than 500 million Spanish speakers as a first or second language. In terms of its number of native speakers worldwide, it is the second spoken language only after Mandarin.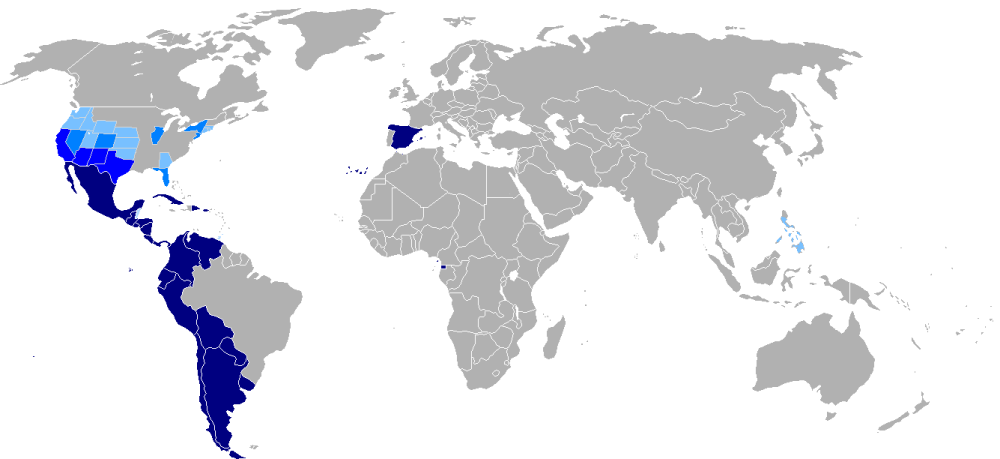 Your Spanish course on Gran Canaria
If you are thinking of taking Spanish lessons on the Canary Islands you couldn't choose better: the archipelago's beaches, climate and important natural attractions make this destination the perfect location for your Spanish course.
The city: Las Palmas de Gran Canaria
Here you will find a major Spanish port city for your Spanish language course with all it entails: the historic city quarter Vegueta, lively streets and inviting shops, beautiful squares, relaxing parks, nice pubs and cafes where you can experience the pleasant life of the city, and the city beach Playa de Las Canteras, where you can enjoy the sun and the sea in the afternoon after your language course.
Among the highlights you will encounter during your language course in Las Palmas are the historic colonial city quarter Vegueta (with its cathedral, the colonial House of Columbus, the market, the Espíritu Santo square and street, Cairasco square), the Alfredo Kraus Auditorium and many more. You will find most highlights in the two city districts: Vegueta-Triana and the harbour-beach district. This is where your Spanish language school is located. The port area has its own charm. Unwind in one of its many beautiful parks or on the beach.
In the evening you can experience the cultural life of the city: theater, concerts, cinemas, museums, exhibitions and festivals of various kinds are held throughout the year. In the last years an alternative scene has also developed in the old quarter, with interesting galleries and music venues.
The interior of the island
A trip to the island's interior is very attractive. The island offers not only beaches of golden sand, but surprises by its untouched nature, as you may not expect. From the central summits dozens of wild, rugged ravines plunge radiantly down to the sea. These remote and often inaccessible ravines have allowed the preservation of an endemic flora.
Here and there you can discover idyllic villages with magnificent views between rocks and ravines. White houses and a friendly atmosphere characterize these mountain villages.
The school and its accommodations are located a few meters from the Las Canteras beach, which is with its 3 Kms and fine golden sand, one of the most beautiful in Spain. Here you can swim all year round, sunbathe and relax during your Spanish language studies.
During your language stay in Las Palmas the Gran Canaria School will organize an activities program for you. It includes a weekly excursion, a tapas-tour through the streets of the old quarter Vegueta, visits to various museums such as the Centro Atlántico de Arte Moderno (Atlantic Center of Modern Art), the Museo de Cristóbal Colón (Christopher Columbus museum), Museo Canario and the Pueblo Canario of folk traditions.
During the weekends of your language trip to Las Palmas you can practice numerous sports on the island: all kinds of water sports (surf, scuba diving), hiking, mountain biking and much more.
You can also enjoy the beautiful beaches and coast of Gran Canaria or get to know other of the Canary Islands. This will make your Spanish language course a real experience.
Your Spanish language school in Las Palmas, Gran Canaria School, will assist you in the organization of other activities.
Gran Canaria is one of the few places where Carnival is celebrated right on the beach. And it is somewhat hard to find a spot where the craziest festivity in the calendar and the fine weather get along so well. Undoubtedly, Gran Canaria must be among the spots with the best weather in all of Europe, as if custom-made to blend the longest nights with days of sunshine in the middle of February.
If you are planning your Spanish language course at this time, early booking is advised.
Flights are no problem for your Spanish language trip to Gran Canaria: The airport in Las Palmas is served by many regular and charter airlines with great frequency. Most European airports offer direct flights to Gran Canaria. We, your language school in Las Palmas, arrange the transfer for you.
We are sure you will certainly not get bored during your language trip to Gran Canaria.
No registration fees

The school does not charge any registration or booking fees for courses or accommodation.

All Spanish levels throughout the year

The school stays open all 12 months of the year.
We run our Spanish courses in six levels all year round.

20 hours/week

Levels taught in groups of max. 12 participants: A1, A2, B1, B2, C1.
All groups will have 20 hours of tuition per week regardless of the number of participants.

All classes are made up

The school only closes on bank holidays. All classes pertaining to those days are made up during the same week.

Any course as of 1 week

Any course may be booked as of one week and for as many weeks as desired.

Food preferences are respected

When booking our half board, your meal preferences will be respected: vegetarian, celiac, allergic to lactose, etc.

Qualified and experienced teachers

All our teachers are native speakers. They hold a university degree in Spanish philology or linguistics and have long experience in teaching Spanish as a foreign language.

Accommodation near school

Stay at our residence halls and reach the school in 15 minutes or less by foot along the beach promenade. No public transport needed.

Online learning

Try our online course of levels A1 and A2 before you arrive and after you leave. This will help you maintain and enhance your Spanish level after you return home.
Access to our online course is free for all students staying at our residence halls.
Me gustaría muchísimo volver a la escuela el próximo año para mejorar mi español y también porque he encontrado personas muy amables y divertidas. !Muchísimas gracias!
Ilaria farioli, 26, Italia.
More comments on Facebook: