Intensive Spanish courses
since 1964
Accommodation
Studio apartments
The building was renovated in 2021 and offers 9 studios for two persons. All studios have their own kitchen equipped with microwave, refrigerator, coffee maker, toaster, kettle and ceramic hob. All studios have sound-proof windows, private bathroom, TV and free WiFi internet access.
The Westerling studio apartments are only 50 m from the beach and only 10 minutes walk from the school.
Double rooms in a shared flat
What is included in the price?
Airport of Gran Canaria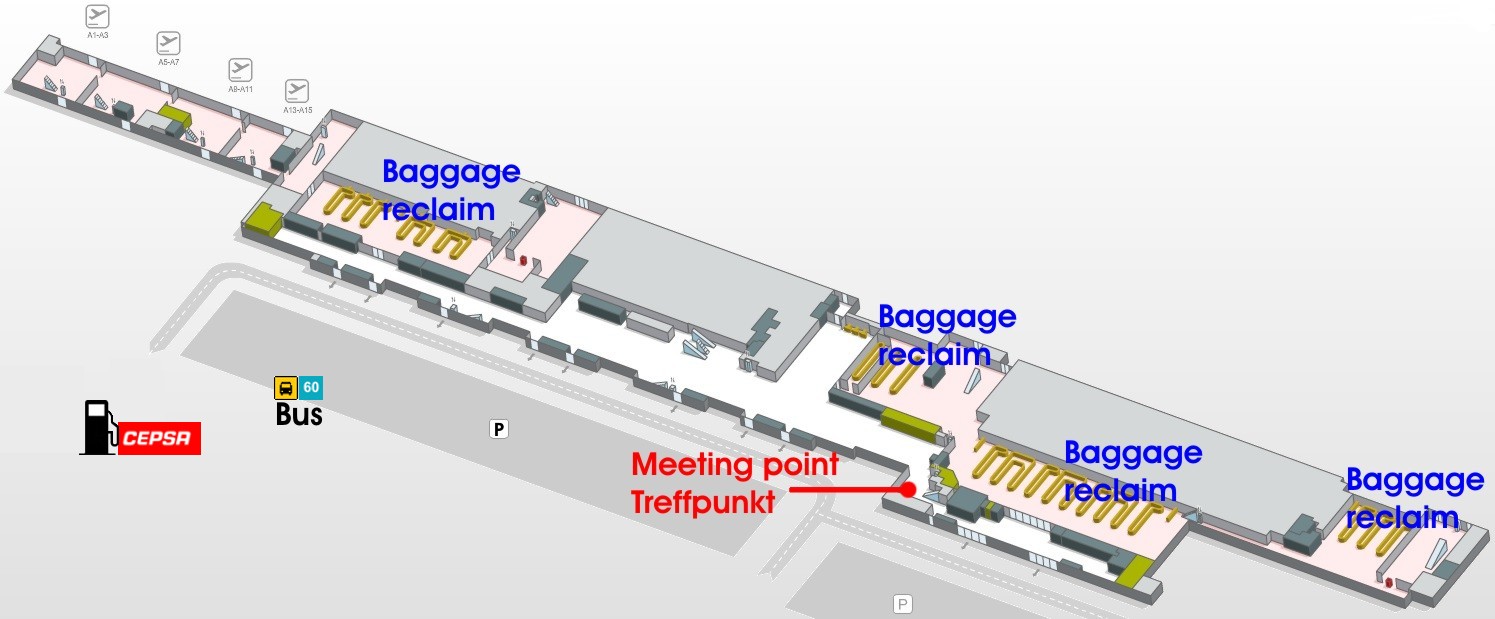 Click to enlarge
Bus to Las Palmas:
You will find the bus to Las Palmas (line 60) as you cross the parking lot in front of the arrivals terminal. Turn to the right towards the red CEPSA petrol station. The bus stop is just in front.


Buses depart to Las Palmas at H.15 minutes and H.45 minutes and cost approx. 3 Eur. Both stop at the San Telmo bus station but only the first one (departing at H.15 minutes) drives all the way to the Santa Catalina Bus Terminal. That is your final destination. If you take the San Telmo bus you can finish your trip by taxi (San Telmo bus station to the Westerling studios or the Plus Residence costs approx. 5 Eur). If you have reached the Santa Catalina Bus Terminal by bus you can walk (150 m) to the Westerling studios. If you don't carry too much luggage you can also walk to the Plus Residence. See the city map below for details.
---
Taxi:
If you prefer to drive by taxi you will find these at the exit of the arrivals terminal.
A Taxi from the airport costs about 40 €.
---
Airport pick-up service:
Contact us to arrange your pick-up service from the airport.
---
Location of school and accommodation:
Enlarge

Me quedé con muy buena opinión sobre la escuela en general. Las clases fueron muy divertidas y muy interesantes porque se habla y se disfruta mucho, y el método didáctico es muy eficiente. Y también es muy familiar. Me gustó mucho mucho estar aquí y regresaré en la próxima ocasión".

Alexandra Preda, Austria.
Saving tip:
Book our special offer for Course20:
Pay 3, get 4 weeks
You save 25%.
---
Learning tip:
Consider bringing some Spanish text of interest for your private tutoring. Working with this material will make the classes more beneficial and entertaining.
---
Online Spanish course for levels A1 and A2

---
Spanish grammar explained in English